Addons Detector 1.2 released!
I teamed up with Denper to create the next version of "Addons Detector". It's a great app to scan all your installed apps for integrated addons. It detects all the adproviders and also a lot of other integrated addons.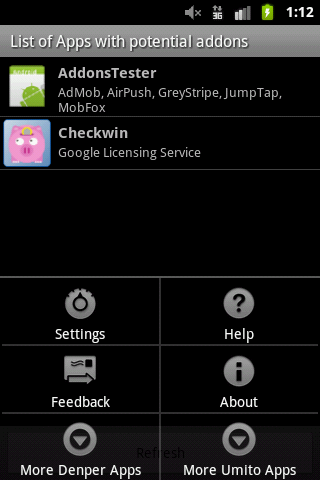 Addons detected:
Ad related
AdKnowledge, AdMob, AdSense, AdWhirl, AirPush, Burstly, Cauly, GreyStripe, InMobi, JumpTap, LeadBolt, MDotM, Medialets, Millenial, MobClix, MobFox, MoPub, OneRiot, Papaya Offers, PontiFlex, Quattro, Smaato, Vdopia, Zest.
License Related
Google Licensing Service, SlideMe SlideLock
Analytics Related
Claritics, Flurry, Google Analytics, InApp, Localytics, Medialets, MixPanel
Gaming Related
OpenFeint, Papaya Social, ScoreLoop
Dev Tools Related
AndEngine, Corona, Immersion Motiv, RoboGuice, Ruboto, Unity3d, Zong
Check it out, and let us know if you miss a add-on!